When people think about horse riding, many non-equestrians think it is just about sitting in the saddle and not doing anything. Every rider knows this cannot be farther from the truth. Not only is riding challenging mentally, but it also brings out the absolute maximum of riders' physical abilities. As other athletes prepare only themselves, equestrians have to think about proper training of their horses and them alone. And let us be honest – the latter is often put aside in favor of other stuff.
The good news is, you do not have to visit the gym regularly to keep yourself fit. As a rider, you have to possess proper balance, steady core muscles, strength, mobility, and overall fitness. Fortunately, you can efficiently work on those at home without going to the gym every other day.
This article brings you a basic idea of a home workout suitable for riders. You can mix it with the exercises you already know, and if you add a run a few times per week, you will be ready for whatever you have planned for this season!
Metabolism boost
At every beginning of your workout routine, you should warm up your muscles. You can walk, you can run, or do several sets of the following: 
1) Skater jumps - Put your left arm blind your back, bend to touch the floor with your right hand, and simultaneously flex your right leg back and to the left. Stand straight again and do the same with opposite limbs. Repeat 20x.
2) Yoga burpees - Bend over, as if you wanted to form a triangle from your body and the floor, keeping legs straight. With small steps, put your feet next to your hands. Slowly raise with hands stretched out and breathe. Then jump into a plank, do the triangle again, and repeat 10x.
3) Mountain climber - Form a plank, then put your knees to your belly and back in a rhythm. Keep your back motionless. Repeat 20x.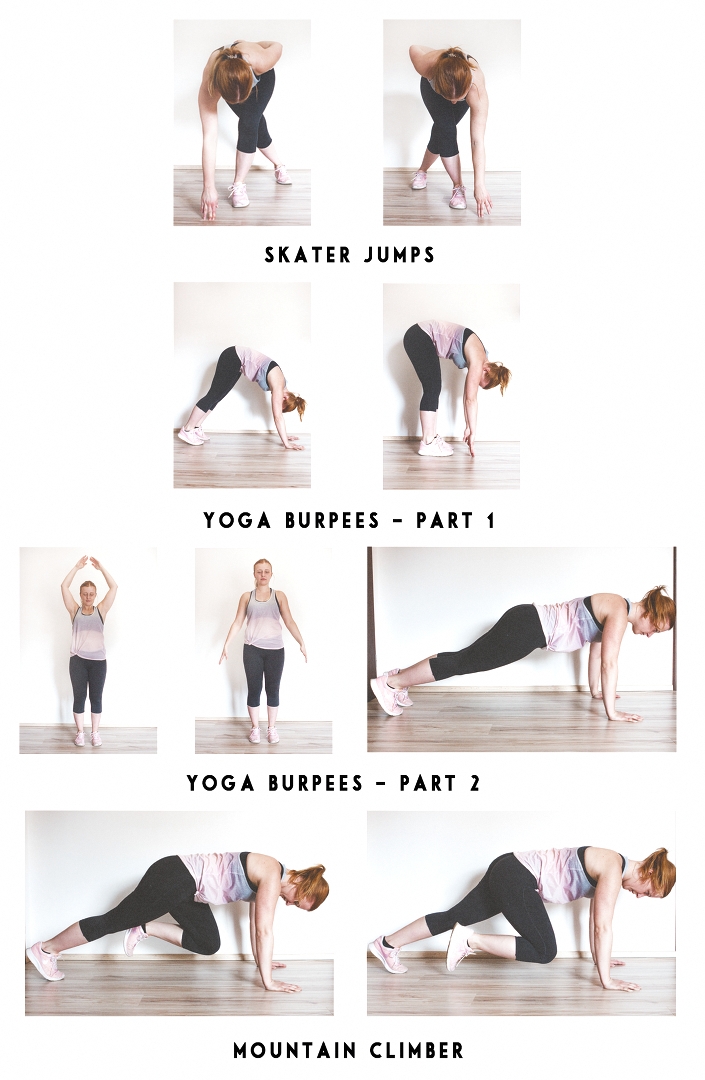 Main part
The major part of your workout focuses on different muscle groups, as well as your balance and mobility. Do three sets of each exercise. You can choose to either do three sets of each exercise alone, or you can do three rounds of these ten following exercises.
1) Eagle arm lunge - Draw your hands together in front of your body. Inhale, bend your right leg, and put the left leg behind. Then go up immediately to a slow kick with an exhale. Repeat 5x for each leg. 
2) Leg back-up - Go down on your knees and hands. Keep your back motionless and try to push up from your hands all the time. Keep your leg bent and push it back and up. Repeat 10x for both legs.
3) Leg side-up -Stay in the same position as in the previous exercise and push your knee up sideways. Repeat 10x for both legs.
4) Plank leg lift - Do a plank, and alternately lift your legs. Lift each leg 5x.
5) Boat crunches - Sit on your hips, stretch your legs above the floor and lean back with your body in an inhale. Then exhale, draw your body upwards and bend your legs towards your body. Repeat 10x.
6) Lifting legs - Lie on your back, your legs bent. Lift both legs upwards with an exhale, while maintaining the angle of 90°.  Focus on your body – your dorsum should be relaxed and flat on the floor. Repeat 10x.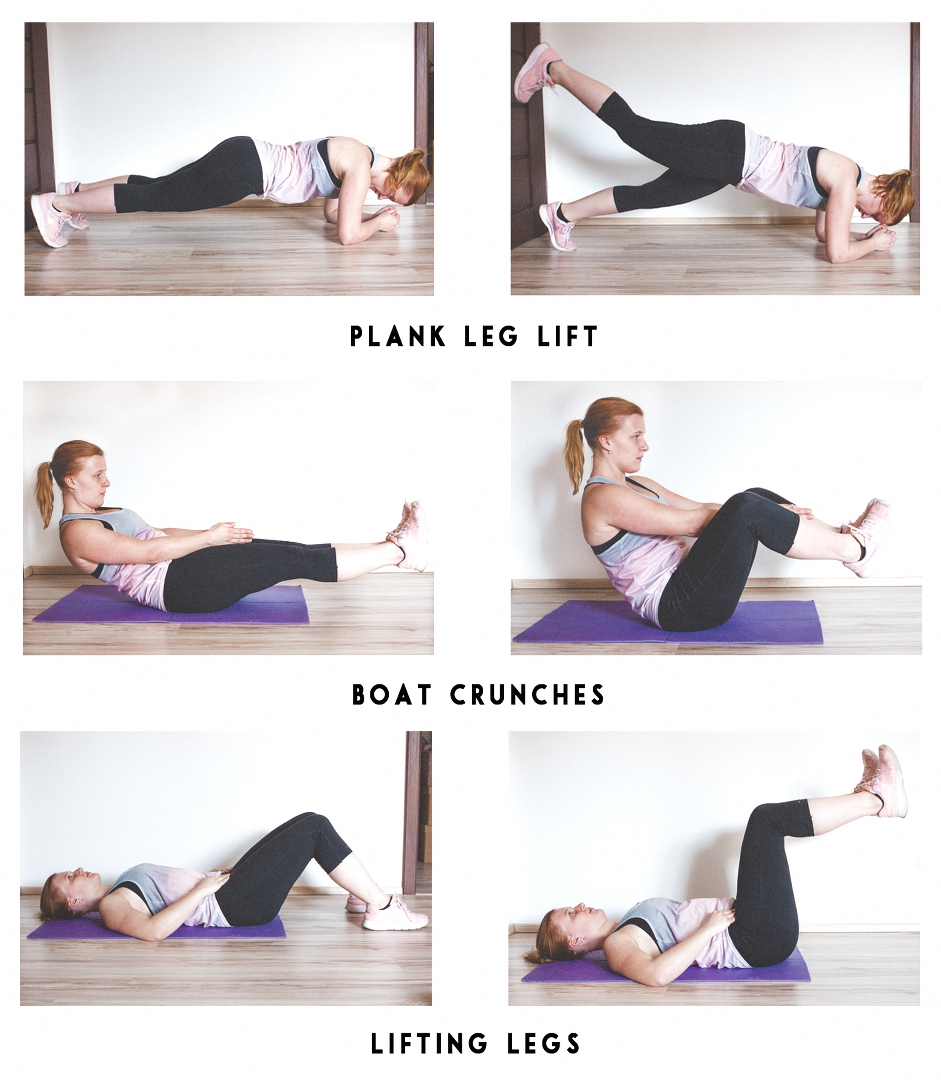 7) The Cat - Form the position on your knees and hands. Lift your arm as if someone pulled your hand and lift the opposite leg as if someone tugged your foot. Exhale while you are reaching out. Repeat 5x for each side.
8) The Candelabra - Lie on your belly on the floor. Put your arms up and bend them in the elbows. Then inhale and lift your hand and upper back a little. Exhale and go back down. Repeat 8x.
9) The Monk - Sit with your legs crossed. Put your arms up and bend them in the elbows.  Then exhale and move them forwards, trying to touch with elbows, using force from your scapulae. Pull your arms away with an inhale. Repeat 15x.
10) Head-up - Lie on your back. Put arms behind your head and lift the head, as if in an attempt to put chin to chest. Remember, your hands are there just for support – your head is pushed up by muscles on your neck! Exhale while moving the head up, inhale within the motion downwards. Repeat 10x.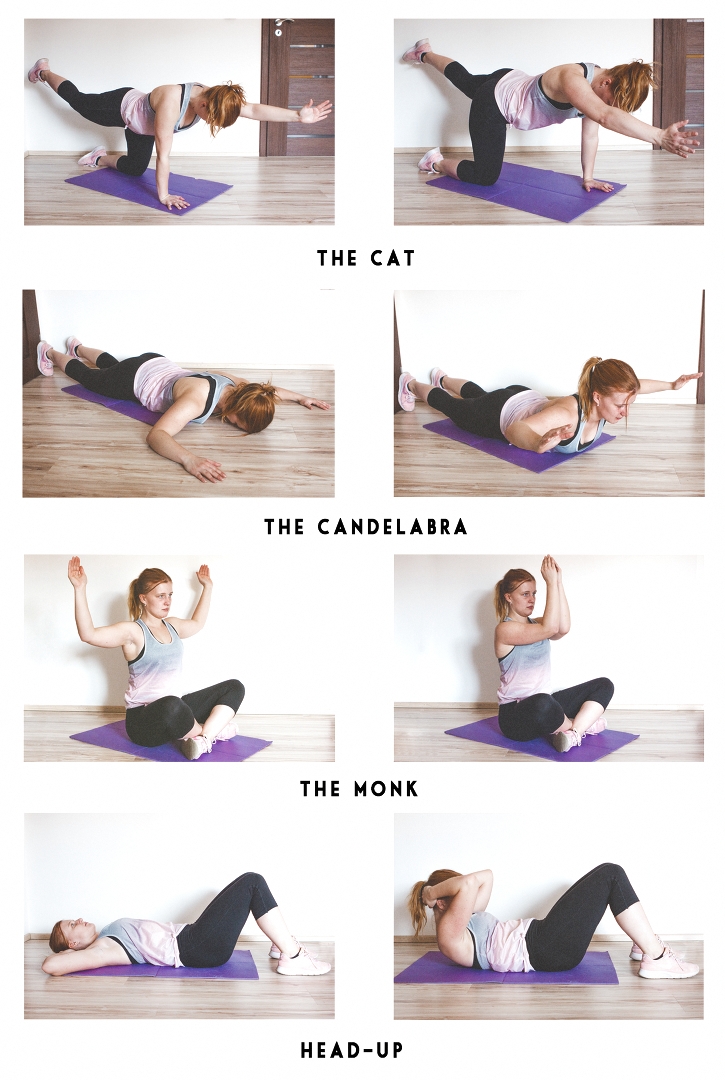 The Stretching
A proper stretching at the end of your workout is a must. It keeps your muscles healthy, your body flexible, and prevents the body from being sore the day after. It is also beneficial to stretch every evening or after every ride. Your muscles will be more relaxed, which means you will be able to keep a better position in the saddle, without incidentally pressing the horse. Also, regular stretching can help you from back pains so frequent among equestrians – try it, and see the results yourself!