Pro článek v češtině klikněte ZDE
Radovan Šillo and Monika Ničová are a great example of a well-functioning showjumping team. From their home near Slovakian Pezinok, they travel to shows across Europe where Rado competes in the highest classes, and Monika takes care of their four-legged partners. Although there is a whole team taking care of their home-stable, you can usually see only Rado and Monika at shows.
When Rado discovered EQUIMO this August, he was the more enthusiastic one, while Monika was somewhat hesitant as she likes to write notes with paper and pen. What do their lives look like after several months with the tracker? Let's take a look with us.
Not long ago, you came back from Portugal – how did you enjoy the sunny venue?
We travel to Vilamoura every year, and we always enjoy this show. It's a difficult show, this year 3* and 4*, and we spent six weeks there. This year was different due to the Coronavirus, but it was successful for us nonetheless.
What does your typical day at a show look like?
Our typical day is planned according to the number and times of classes. We usually start the usual duties in the stable at 7 o'clock, then we walk the horses and start competing.
Where does EQUIMO fit into this routine of yours?
Currently, we use EQUIMO only for flatwork, and we're looking for a way of using it in a class. We are planning it for the future to adjust the warm-up for every horse according to their needs. However, we are delighted with EQUIMO during regular training sessions. It provides an overview of our horses' sessions, and we also see their feeding needs.
How long did it take you to become accustomed to EQUIMO?
It was a matter of just a few days.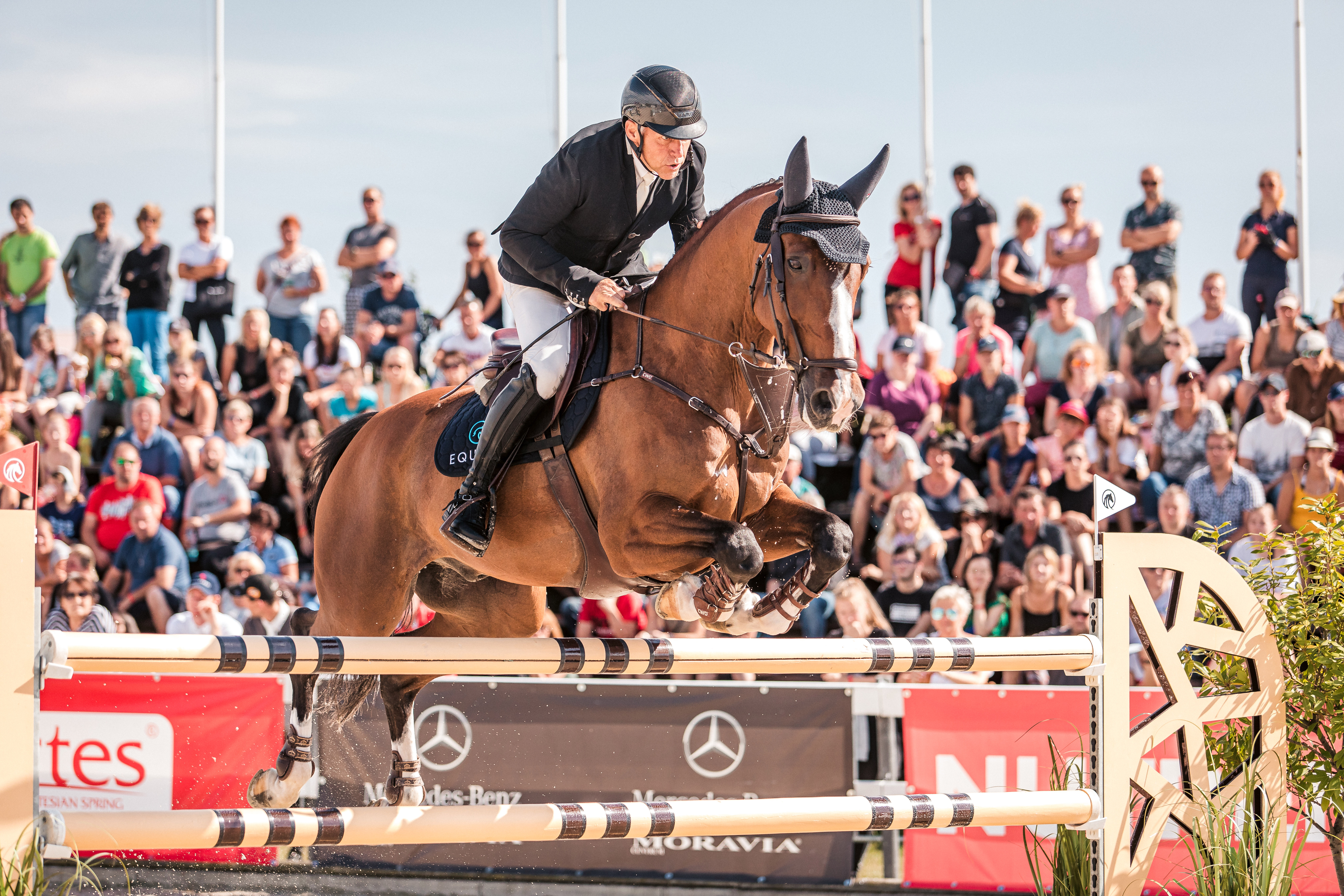 How hard was it to synchronize the relationship between you as a rider, groom, and the tracker?
Right now, there are only the two of us as the core of our team, so it was quite easy and fast. We will try to integrate two other team members, our groom, and our trainer, so we'll see how that turns out.
Monika, you have been saying that you like to work with the horses according to your feelings since the beginning. Did EQUIMO interrupt your working balance somehow?
Yes, I'm kind of a classic. I try to have faith in my feelings, but it's hard. EQUIMO helps me with a better overview, so I have to admit it's a rewarding helper.
You further said that you like to keep notes. Did the information in the app help you, or are you still keeping written track?
I'm slowly learning to count on EQUIMO, but right now, most of my notes are still on paper. I'm planning to transfer more information only into the app because it helps Rado to keep track of everything our horses do. So we are working on it!
It is necessary to measure the horses before the first session. You reserved some time to measure your horses; how demanding was it for you?
The measuring itself was relatively easy. It took us an hour to measure eight horses, and it was a fun evening. We had to measure the first horse twice, but then it went on well.
What is life at your stable like, and what is EQUIMO's role there?
Our days at home are not much different from days at shows. In the morning, the horses go into a walker after feeding. In the meantime, we muck out the stables and have our own breakfast afterward. Then we ride or lunge and turn two horses out if the weather is good. At noon, it's lunchtime for everyone. We feed hay around 4 pm. At that time, we have finished riding. Our regime is very simple and always mirrors the number of horses we have. Every day, we use EQUIMO while riding and working with horses.

How many horses have you got at home, and how many of them have their training analyzed by EQUIMO?
We have seven sport horses, and we use EQUIMO with them all. The rest of the horses are mainly youngsters who spend the wintertime in the pasture.
Our oldest sport horse, Durant, is 12 years old, and Rado has been riding him for seven years. That's a long time, and you can say Durant is a part of the family – we love him, even though he has his quirks. He was a part of the European Championship in Rotterdam last year, and right now, he's our best horse.
Then there is an eight years old Senjor. He's a kid in a big horse's body. He needs a lot of attention, but this year he took part in his first 3* Longines Ranking Grand Prix. The only lady on our team is Heurese. She's a bit strange, but we like her precisely for her uniqueness.
Leonard is a nine years old chestnut who makes us very happy. Our Emyr, nicknamed Emil, is the local rascal. He's got the cutest face, but he's a joker. This season hasn't started well for him, but he finished it in a greater way than we could expect, and we hope that as an eight-years-old, he's ready for next year. Then there is ten years old Fernando. He's an unlucky guy; he got severely injured two years ago, and his healing took longer than anyone could guess. However, he's now in full training, and he'll hopefully join our team next season.
Finally, we have a new gelding Quattro Cento, who fits in well and makes us pretty happy.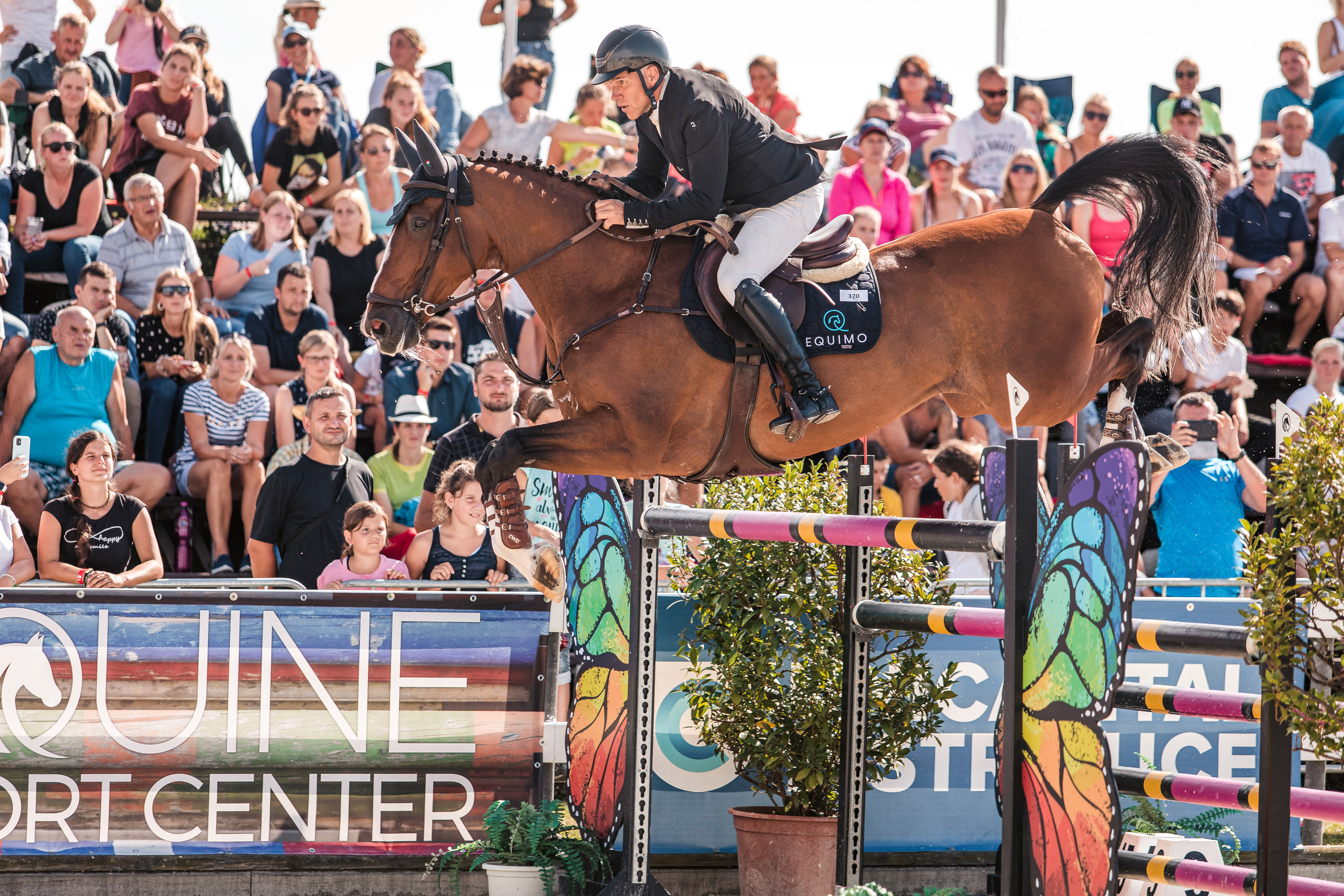 Do you also use data sharing with another person – a trainer, or experts such as farriers or vets?
Right now, we share information only amongst ourselves, and we want to include our trainer, too.
Which functions are mostly for Rado, and which ones are more of Monika's cup of tea?
It's probably even. We use EQUIMO mainly for our self-control and for having an overview of our horses' workload. Along with the feed control and the information about the ratio of energy income and outcome, it makes the whole training process a lot easier.